Are You Internally Fit? ™
Athletes report that improving their gut health led to:
Improved sustained performance

Fewer instances of sickness

Feeling better training and racing
Improved quality of sleep
Transform your health with Ixcela
Actionable results and health scores
Are you Internally Fit?™ Find out which metabolites are below optimal levels and what you need to do to improve them.
Personalized Nutrition
Find out which foods your body needs based on metabolites not within optimal levels. Access over 100 customized healthy recipes to improve your scores.
Personalized Supplements
No more guessing. Take only the supplements your body needs based on which metabolites are out of range.
Personalized Mindfulness
Access personalized recommendations and activities to help improve mood, sleep, and the side effects of stress.
Personalized Fitness
Get personalized fitness recommendations, a 90-day plan, and exercise videos based on your goals and training experience.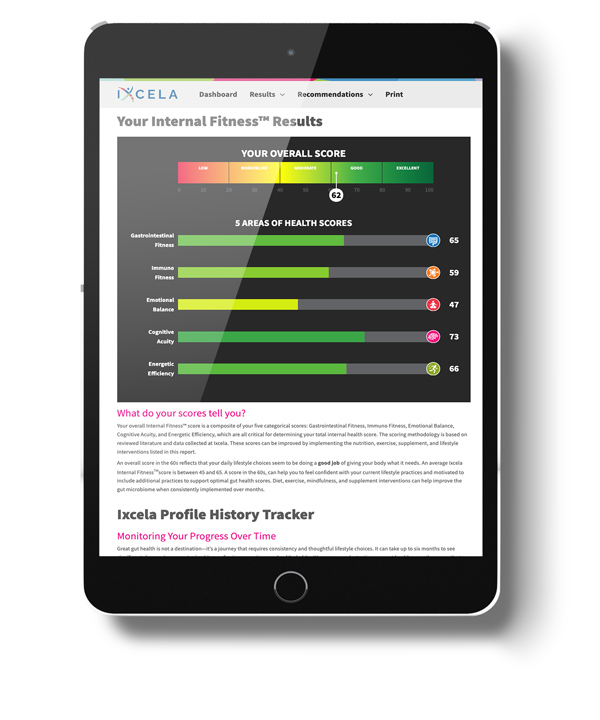 ORACLE TEAM USA Cuts Missed Training Days by Half Using Ixcela
"It (the Ixcela test with tailored supplements program) doesn't stop you from getting sick, but it does reduce the incidence and severity. You do get sick, but you bounce back quicker, that's powerful and significant in a sporting context."
—Scott Tindal, former Head Physiotherapist & Team Nutritionist
Hack Your Performance with Gut Microbiome Testing
"As a professional Ironman athlete whose livelihoods depend on my best performance, I need an edge to stay competitive. I've struggled with gut discomfort for years and through the Ixcela program, I was able to transform my dietary choices to feel better during training and racing. Other benefits I saw include improved sleep, and less sickness."
—Sarah Piampiano, Professional Triathlete, 4x Ironman winner
Articles About Athletic Performance & Gut Health
Performing Your Best Begins In Your Gut
Used by Athletes
Ixcela gut microbiome testing is used by weekend warriors and age groupers working to achieve a new PR, as well as professional triathletes, hockey players, sailors, and cyclists whose livelihood depends on their best performance.
Measure What Matters
Are you Internally Fit?™ Adjust your habits according to data, not health fads. Are your lifestyle choices contributing to the brain performance, immune function, digestive health, energy level, and emotional balance you desire?
Clean and Convenient
No stool sample. The Ixcela gut microbiome test uses a pinprick of blood that you collect at home. Mail the sample to our lab and we'll post your results in your account!
IXCELA HAS BEEN USED BY